Why Does UPS Have a Virtual Monopoly on the Home Delivery Business?

Jed Margolin



On November 24, 2009 I ordered an ETQ 3000 propane-fueled generator from Home Depot. Click here for a description.

One of the advantages of propane is that it does not go stale. Gasoline does, and it doesn't take long for it to go stale. Another problem with gasoline in an engine is that if it is not started frequently (like once a week) it can turn into a shellac type substance that will coat the inside of the engine. Here is a good article about stale gasoline.

Propane does not have that problem, which is why I wanted a propane-fueled generator.

Home Depot does not sell the ETQ-3000 in their stores. You cannot order it and have it shipped to their store for you to pick up. You can only buy it delivered to you, and Home Depot uses only UPS.

The generator was delivered on December 3. (ups1.pdf)

When I unpacked it I discovered that it was broken. The choke handle had completely snapped off. Later, when I checked the video surveillance recording I saw why.

When they delivered the generator to me (100+ lbs) the driver dropped it off the back of his quad onto the concrete driveway apron. (If he had rung my doorbell I would have been happy to come out and help him unload it.)



According to Home Depot, UPS considers the generator a hazmat item. They will deliver it but will not pick it up. I had to bring it in to the local Home Depot store myself.





I ended up ordering it again and picking it up from the UPS depot in Sparks. Even then I had to fight with UPS for the privilege of driving an hour to Sparks and picking it up myself (and driving an hour back home).

(ups2.pdf)

I would have dropped the matter except that UPS messed with me again.

On another delivery they failed to deliver a package two days in a row, citing Adverse Weather Conditions (ups3.pdf) The first day (January 26) there was some snow on the roads. I live in a rural mountain community in Storey County, Nevada, and sometimes it snows during the winter. Sometimes the roads can get bad, but not this time. The snow was minimal and UPS has never had a problem with such a small amount of snow before.

The next day (January 27) the roads were almost entirely clear, but UPS again declared Adverse Weather Conditions. BullShit.

I called UPS to tell them I was refusing delivery and to return it to the sender. They refused, saying I could only refuse it when it was delivered. Until recently, the UPS driver up here would leave a package at my front door, ring the doorbell, and then run away. He has never asked me to sign for anything. He usually does this during my afternoon nap, waking me up. Then he started leaving it at the side door where, fortunately, there is no doorbell. But he still sometimes would leave it at the front door, ring the doorbell, and run away. Both the front door and the side door are somewhat protected from the weather, and both areas are visible on my security cameras. Most recently, he has been leaving packages at the front of the garage in a place where they are unprotected from the weather and visible from the road in front of my house.

I was not going to sit in my driveway all day waiting for him to come so I could refuse delivery.

I called the sender (Tiger Direct) and they agreed to call UPS and instruct them to send it back to them.

All of this took a number of phone calls, mostly to UPS. That's when I took the video of the generator being delivered (remember the generator?) and posted it on YouTube. http://www.youtube.com/watch?v=mGpcSt_2IJ8

I am also posting the video here on my web site: upsvideo.wmv . You might have to right-click and save the file before you can play it.

I sent UPS a link to the YouTube video and they seemed to want to resolve the problem.

Unfortunately, it was just more BullShit.

I received a message from Cheryl at the UPS Reno/Sparks facility. (cheryl.mp3) She seemed to want to resolve the problem.

However, two days later I received a message from Jason who said he was with UPS Security. (jason.mp3)

Why was UPS Security calling me? The only thing I could think of was that UPS intended to threaten me.

I called Jason back and got his voice mail. Jason doesn't answer his phone. No one at the Reno/Sparks facility answers their phone. You can leave a message and sit by your phone for a few days in case they decide to call you back. I might do that if I need to talk to my Doctor but there is no way I will do that for UPS. Nonetheless, I called Jason again, left a message, and he never called me back.

The only way to talk to someone in the Reno/Sparks facility is to call the toll-free number (1-800-742-5877) and persuade the agent that you are serious. Then they will send an email to someone at the Reno/Sparks facility, and then maybe they will call you.

BTW, the way to talk to an agent at the 800 number is to say "Agent" until you get one. Don't press any numbers. Don't fall for the crap "First I have to determine how to route your call." If you indicate that you want to track a package they will send you into an automated loop that you will never get out of.

After about a week I decided to see if UPS had gotten their act together.

They haven't and they aren't going to. (ups4.pdf)

I got another Adverse Weather Conditions Exception today. (February 8)

This was the road in front of my house this afternoon: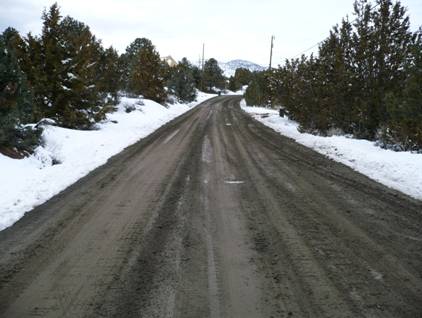 Scary, isn't it? How could anyone be expected to drive on that road?


I called in the afternoon to ask how many other deliveries in my neighborhood were experiencing Adverse Weather Conditions.

The agent (whose name I wish I had written down) checked and said "25".

Later, after 7:00pm I called to ask how many of the 25 deliveries had been made. The agent said he had no way of even checking how many deliveries had been scheduled in my neighborhood.

I asked to speak to a Supervisor. He said ok if I would stay on hold for 3 minutes.

After 10 minutes it was obvious that I was not going to be connected to a Supervisor.

I hung up and called back.

That agent persuaded me that the previous agent had been telling the truth. They have no way to determine how many deliveries have been scheduled in your neighborhood. She also agreed that the Afternoon Agent had simply made up the number.


So, here we are. Almost all online companies use UPS, and only UPS, to deliver their merchandise. Many don't even tell you they will be using UPS until you are in the later stages of checkout. A very few give you a choice of delivery services. And then, if you choose Fedex, it costs twice as much.


How has UPS been able to get a virtual monopoly on home delivery services?

My experience with UPS as a customer is that UPS is a CORRUPT Company.

UPS should be investigated by DOJ to find out exactly how they got this monopoly.

UPS should be investigated by Congress. They won't be because of UPS's extensive lobbying. http://www.dispatchpolitics.com/live/content/business/stories/2008/10/05/UPS_lobby_cox.ART_ART_10-05-08_D6_5EBGTBM.html?sid=101


When lawmakers ask questions about the DHL deal, UPS lobbyists "immediately respond," UPS spokesman Norman Black said. "That's their job."

And they do that job with the help of heavy spending. According to records compiled by the Center for Responsive Politics, a nonpartisan, nonprofit Washington research group that tracks money in politics, UPS has contributed $22.5 million to federal candidates from 1989 to the present. That ranks the company 21st on the center's "top all-time donors" list.

About two-thirds of its spending has gone to Republican candidates. On the list of contributors to Republicans' political-action committees, UPS ranks seventh for the 2007-2008 election cycle, with $948,208 donated, according to data released by the Federal Elections Commission on Sept. 17.

UPS does not reveal how many lobbyists it employs, but the Center for Responsive Politics says UPS has spent at least $17.3 million on lobbying since 2002, with more than $2.5 million being spent just in the first half of this year [2008].



The only good thing about the collapsing economy is that it will take UPS down with it.

Fewer people will be able to buy things, so UPS will have fewer packages to deliver.


UPS' corruption seems to be systemic.

Here is a class action lawsuit against UPS: http://www.legalnewsline.com/news/225452-ups-targeted-in-class-action-suit



UPS targeted in class action suit

DENVER (Legal Newsline)- United Parcel Service Inc., one of the nation's largest private shippers, is the target of a class action lawsuit over its Air-In-Ground program.

The complaint, filed in Denver, accuses the Atlanta-based company of breach of contract, fraudulent inducement, fraudulent nondisclosure, intentional misrepresentation, and negligent misrepresentation, breach of implied covenant of good faith and fair dealing and unjust enrichment.

The "Air-In-Ground" program which UPS implemented in 1995 was designed to identify and sort "air" packages that could be transported by "ground" transport and still arrive at their destination on time.

According to the complaint, UPS's Air-In-Ground program demonstrates the premeditated actions of UPS because the company agrees and accepts payment for air shipping yet has been "systematically and deliberately" substituting the far less expensive ground shipping services.

.

.

.


You would think that such a corrupt company would be punished by seeing it stock price tumble. It hasn't. Its stock price is higher than it was a year ago.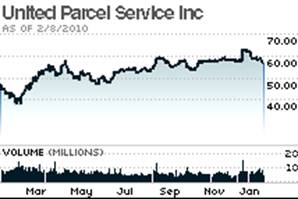 But "even as I have seen, they that plow iniquity, and sow wickedness, reap the same." (Job 4:8)

"What goes around comes around. What goes up must come down." (Bob Marley)


At the very least, Truth-in-Labeling requires that UPS change its name to UBS.


Jed Margolin
Virginia City Highlands, NV
February 8, 2010


---